Medically reviewed by Karen Wolters, RN and Joanna Fearnley, LPN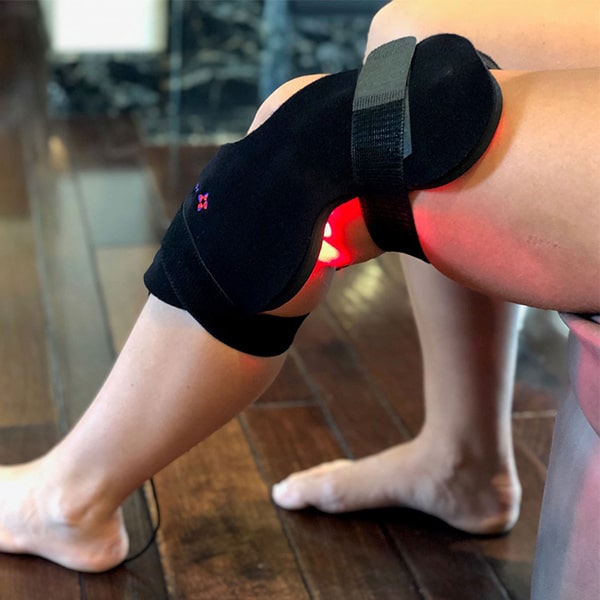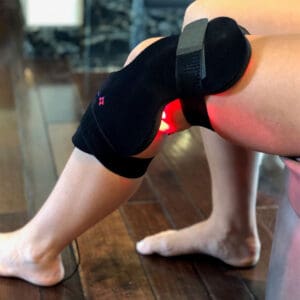 From the meniscus to the articular cartilage, collateral ligaments and the cruciate ligaments, your knees are the largest joints in your body so it's important that you care for them with help from red light therapy for knees. Knee injuries can include sprains, strains, or even chronic diseases like arthritis and diabetes. But regardless of the cause, is there anything available today that can help relieve both pain and poor sensation in the knees?
Knee injuries can include a torn meniscus sprains, strains, or even chronic diseases like arthritis which can be caused by anything from standing to climbing. All kinds of movements can cause inflammation in the knee. Regardless of the origin, many people are looking to red light therapy to help relieve pain in the knee.
If you're reading this now, chances are you have a knee pain. Whether you're experiencing chronic or acute knee pain, check out infrared light therapy for knees!
Acute knee pain occurs when you have an injury or inflammation. This type of knee pain needs care and treatment for it to heal. Chronic knee pain as a result of a serious injury, an untreated inflammation, or arthritis, can become crippling in severe cases.
Infrared Light Therapy Is Perfect for Knees
The science behind infrared light therapy is a "fast-growing technology used to treat a multitude of conditions that require stimulation of healing, relief of pain and inflammation, and restoration of function."[1]  Those suffering with knee pain know that the restoration of mobility is vital to maintain positive mental wellbeing. Luckily, red light therapy for knees has been proven to be effective time and time again.
Shop Red Light Therapy Devices
Red light therapy pads are Class II Medical Devices and have been granted FDA clearance for increasing circulation, relieving pain, relaxing muscles, relieving muscle spasms, and relieving the aches and stiffness caused by arthritis. Knee pain can slow you down, and red light therapy for knee pain can help you live your life without invasive treatment.
The causes of knee pain can be grouped as follows:
Inflammation – knee bursitis, arthritis, infection, & gout
Wear and tear – osteoarthritis
Injury – fractures, dislocations, tears and sprains
If you're experiencing any of the above, it's important that you facilitate the healing process using red light therapy.
Circulation is Key to Relieve Knee Pain
Scientific studies confirm that red light therapy knee pads "…are beneficial for relieving pain and can accelerate the body's ability to heal itself."[2]  Increasing circulation is key to speeding up healing and reducing the severity of pain in your knee. Red light therapy for knees relieves pain by supporting the natural healing process, which helps the body to repair itself and also to restore sensation in the knee, leading to better balance and mobility.
The Benefits of Red Light Therapy For Knees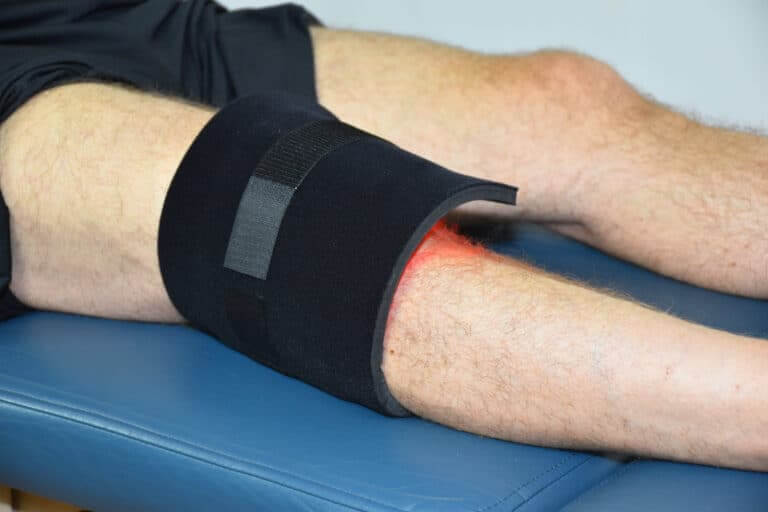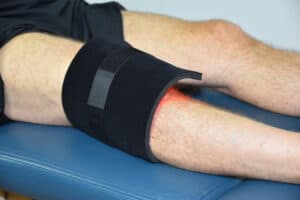 LED Light Therapy knee pads use light-emitting diodes (LEDs) to produce light waves in the visible and infrared spectrum that painlessly penetrate the skin and are absorbed by the body. Infrared (IR) light waves have a beneficial effect on nerves.  Science has discovered that, "Nerve cells respond particularly well to IR…."[3] and that IR "…can induce neural stimulation effects as well as promoting a wide range of therapeutic benefits in cells or tissues."[4]  This is the perfect solution for those suffering with knee pain.
Try Infrared Light Therapy for Knees
The best way to help painful knee conditions is to partake in frequent light therapy sessions. We recommend twice a day for at lease 20 minutes for best results. HealthLight are a leading American manufacturer of light therapy pads for knees that are FDA-cleared.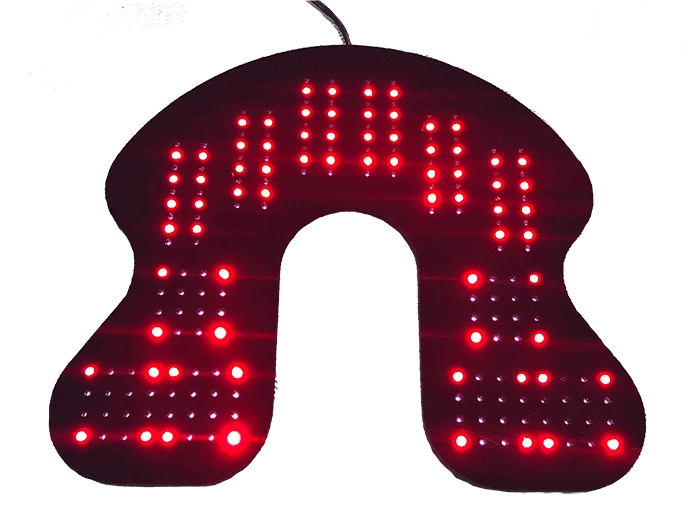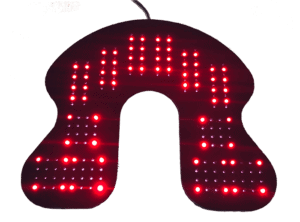 HealthLight's Knee & Shoulder 204 Diode Pad:
Velcro straps wrap around the knee to securely hold the pad in place, with 204 LEDs: 72 red and 132 infrared. This pad measures 14″ x 12 and operates at 152 joules/minute. The top section measures 7"x 9" while the middle to bottom section is 4.5"x 15.5".  This pad can be used for both the knee and the shoulder.
The two individual flaps uniquely allows for accommodation from a small person to large person, maximizing the contact of the LEDs with the skin.
The HealthLight Knee & Shoulder Infrared Light Pad can be purchased in a double pad package, allowing you to save time by treating both knees simultaneously.
Shop Red Light Therapy Knee Pads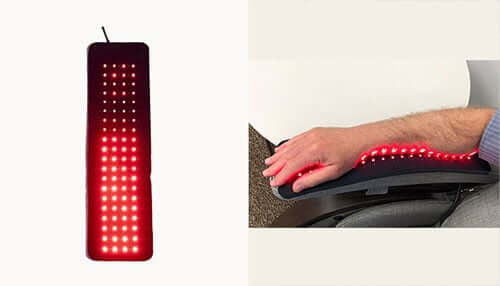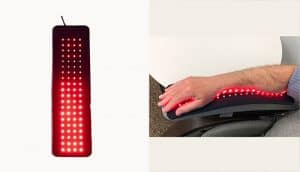 HealthLight's Long 180 Diode Pad:
This pad features 180 LEDs: 80 red (630 nm) and 100 infrared (850 nm).  At 16"x 5", this highly flexible long and narrow pad can be used over the knee.
The Long 180 infrared light pad is also available with blue, red, and infrared LEDs for the same price.
Shop Long Red Light Therapy Pads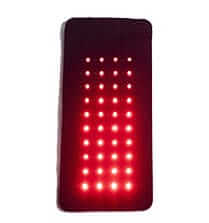 HealthLight's Small 90 Diode Pad:
The size and rectangular shape of the small 90 infrared light pad make it perfect for treating the knee. Just wrap the pad around the knee using Velcro, and it will cover the full area.  At 9.8" x 4.5", this pad features 90 LEDs: 50 infrared (950 nm) and 40 red (630 nm).
Shop Small Red Light Therapy Pads
You Don't Have to Live with Knee Pain
Knee pain often reduces your movement and  your quality of  life. You don't have to live with the pain as LED Light Therapy for knees is the perfect soothing solution for acute knee pain and chronic knee pain. Purchasing an LED Light Therapy device from HealthLight will help you and/or your patients experience fast-acting, dependable pain relief.  HealthLight makes the most durable and most powerful clinical strength LED Light Therapy systems available today! For more information on how red light therapy works, get in touch with out experts.
[1] Avci P, Gupta A, Sadasivam M, Vecchio D, Pam Z, Pam N, Hamblin MR. Low-level laser (light) therapy (LLLT) in skin: stimulating, healing, restoring. Semin Cutan Med Surg. 2013 Mar;32(1):41-52. PMID: 24049929; PMCID: PMC4126803, p. 1.
[2] Cotler, Howard B. et al.  The Use of Low Level Laser Therapy (LLLT) For Musculoskeletal Pain. MOJ Orthop Rheumatol. 2015  ;  2(5): . doi:10.15406/mojor.2015.02.00068, p. 7.
[3] Tsai SR, Hamblin MR. Biological effects and medical applications of infrared radiation. J Photochem Photobiol B. 2017 May;170:197-207. doi: 10.1016/j.jphotobiol.2017.04.014. Epub 2017 Apr 13. PMID: 28441605; PMCID: PMC5505738, p. 1.
[4] Ibd., p. 15.
Start Your Pain Relief Journey Today
Contact us now and speak with a light therapy expert. They are here to help you find relief at home with soothing red light therapy.