Medically reviewed by Karen Wolters, RN and Joanna Fearnley, LPN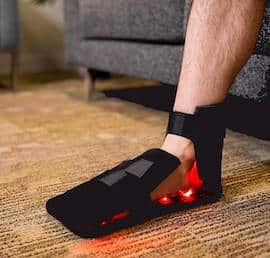 You don't have to be an athlete to injure your ankle, so red light therapy for ankles is great for everyone suffering from mild twists to chronic pain like arthritis. From the ligaments to bones, your ankles require adequate care to ensure you maintain a good quality of life.
Ankle injury occurs when the ankle joint is twisted too far out of its standard position. Injury happens as a result of tripping, falling, walking, running or rolling the ankle. Most ankle injuries occur when forcing your foot or ankle into an unnatural position, whether that's during sporting activities or while walking on an uneven surface. Unstable footwear can also contribute to injured ankles.
Acute ankle pain occurs when you have an injury or inflammation and requires regular treatment to promote healing. Chronic ankle pain can be devastating and is often the result of a serious or untreated injury. Both of which need to be dealt with in order to maintain your mobility.
Infrared Light Therapy is the Perfect Treatment for Ankles
The science behind infrared light therapy is still being fully uncovered, but what we know so far is that it is a "fast-growing technology used to treat a multitude of conditions that require stimulation of healing, relief of pain and inflammation, and restoration of function."[1] Anyone suffering with ankle pain knows that it can have serious negative effects on your physical and mental wellbeing. Luckily, red light therapy for knees has been proven to be effective time and time again.
Shop Red Light Therapy Devices
Described as a Class II Medical Device, red light therapy pads have been granted FDA clearance for increasing circulation, relieving pain, relaxing muscles, relieving muscle spasms, and relieving the aches and stiffness caused by arthritis and other conditions.
The causes of ankle pain can be grouped as follows:
Inflammation – arthritis, overuse, high-heeled shoes, recent footwear changes, exercise, bursitis
Wear and tear – types of arthritis
Injury – fractures, dislocations, strains and sprains
The above conditions can be treated without invasive treatment if you use red light therapy pads for ankles two times a day for 20 minutes.
Improving Circulation is Key to Relieving Ankle Pain
Increasing circulation is key to speeding up healing and reducing the severity of pain in your ankle. Red light therapy for ankles relieves pain by supporting the natural healing process, which helps the body to repair itself and also to restore sensation in the knee, leading to better balance and mobility. Red light therapy pads for ankles have been scientifically proven to be "beneficial for relieving pain and accelerating the body's ability to heal itself."[2]
The Benefits of Red Light Therapy For Ankles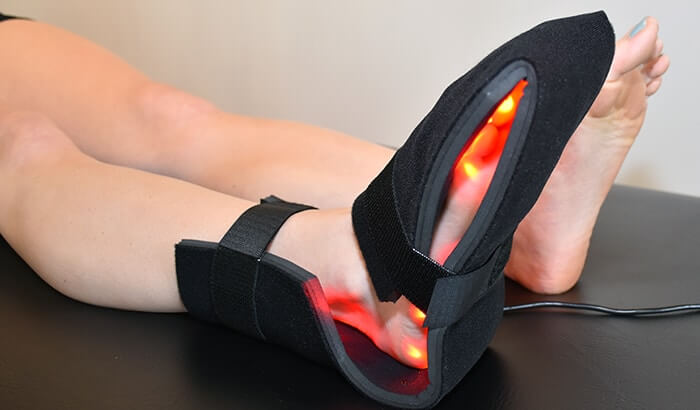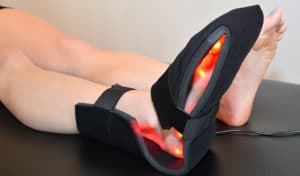 The key to using red light therapy as non-invasive treatment for ankle pain is by using it regularly. LED Light Therapy ankle pads use light-emitting diodes (LEDs) to produce light waves in the visible and infrared spectrum that painlessly penetrate the skin and are absorbed by the body. Infrared (IR) light waves have a beneficial effect on nerves.  Science has discovered that, "Nerve cells respond particularly well to IR…."[3] and that IR "…can induce neural stimulation effects as well as promoting a wide range of therapeutic benefits in cells or tissues."[4]  This is the perfect solution for those suffering with ankle pain. In addition, this kind of treatment can be used at home, and is not limited to use in a clinic.
Try Infrared Light Therapy for Ankles
Treating ankle pain with regular LED Light Therapy sessions can help painful chronic ankle conditions, and make them more manageable in every day life. HealthLight make light therapy pads for ankles that you can easily use from the comfort of your home. Choose an American manufacturer of medical-grade FDA-cleared LED Light Therapy devices for best results. Here are 4 light therapy pads that are perfect for treating feet and ankles: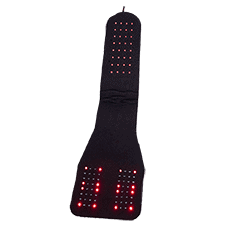 HealthLight's Foot & Calf 131 Diode Pad:
Attached Velcro straps wrap over the top of the foot and around the calf securely hold the pad in place, treating the sole, ankle and the back of the calf simultaneously. It features 131 LEDs: 83 infrared (850 nm) and 48 red (630 nm). The top section measures 7"x 9" while the middle to bottom section is 4.5"x 15.5".
The Foot & Calf 131 Infrared Light Pad can be purchased in a double pad package, allowing you to save time by treating both ankles simultaneously.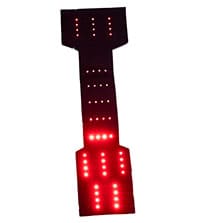 HealthLight's Foot & Ankle 122 Diode Pad:
This uniquely-shaped 3-section pad features 122 LEDs: 70 infrared (850 nm) and 52 red (630 nm). The top section measures 8" wide x 5" long, the middle measures 12" long x 4" wide, and the bottom measures 7" long x 6" wide.  This pad can be used in two ways — extended or folded over:
When extended, it covers the bottom of the foot from the toes, the back of the heel, the ankle and continuing up the calf.
When folded over, it covers the toes and foot like a boot, covering the top of the foot, the sole, the heel, and both ankles.
The Foot & Ankle 122 Infrared Light Pad can be purchased in a double pad package, allowing you to save time by treating both ankles simultaneously.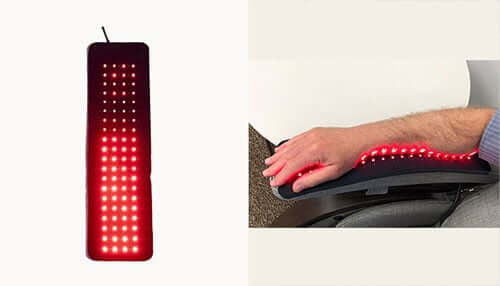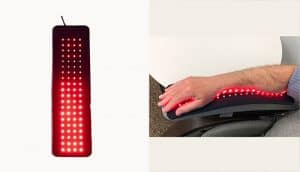 HealthLight's Long 180 Diode Pad:
This pad features 180 LEDs: 80 red (630 nm) and 100 infrared (850 nm).  At 16"x 5", this highly flexible long and narrow pad can be used to effectively treat the ankles.
The Long 180 infrared light pad is also available with blue, red, and infrared LEDs for the same price.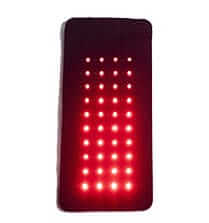 HealthLight's Small 90 Diode Pad:
The size and rectangular shape of the small 90 infrared light pad make it perfect for foot treatment. Just strap across the ankle with Velcro.  At 9.8" x 4.5", this pad should cover the toes, sole, heel, or ankle area.  It features 90 LEDs: 50 infrared (950 nm) and 40 red (630 nm).
You Don't Have to Live with Ankle Pain Forever
Ankle pain can severely dimish the quality of the life you lead by reducing your mobility and damaging your mental health. LED Light Therapy for ankles is the perfect soothing solution for all ankle pain as it promotes healing and inhibits swelling. Purchasing an LED Light Therapy device from HealthLight will help you and/or your patients experience fast-acting, dependable pain relief.  HealthLight makes the most durable and most powerful clinical strength LED Light Therapy systems available today! For more information on how red light therapy works, get in touch with out experts.
[1] Avci P, Gupta A, Sadasivam M, Vecchio D, Pam Z, Pam N, Hamblin MR. Low-level laser (light) therapy (LLLT) in skin: stimulating, healing, restoring. Semin Cutan Med Surg. 2013 Mar;32(1):41-52. PMID: 24049929; PMCID: PMC4126803, p. 1.
[2] Cotler, Howard B. et al.  The Use of Low Level Laser Therapy (LLLT) For Musculoskeletal Pain. MOJ Orthop Rheumatol. 2015  ;  2(5): . doi:10.15406/mojor.2015.02.00068, p. 7.
[3] Tsai SR, Hamblin MR. Biological effects and medical applications of infrared radiation. J Photochem Photobiol B. 2017 May;170:197-207. doi: 10.1016/j.jphotobiol.2017.04.014. Epub 2017 Apr 13. PMID: 28441605; PMCID: PMC5505738, p. 1.
[4] Ibd., p. 15.
Start Your Pain Relief Journey Today
Contact us now and speak with a light therapy expert. They are here to help you find relief at home with soothing red light therapy.