Medically reviewed by Karen Wolters, RN and Joanna Fearnley, LPN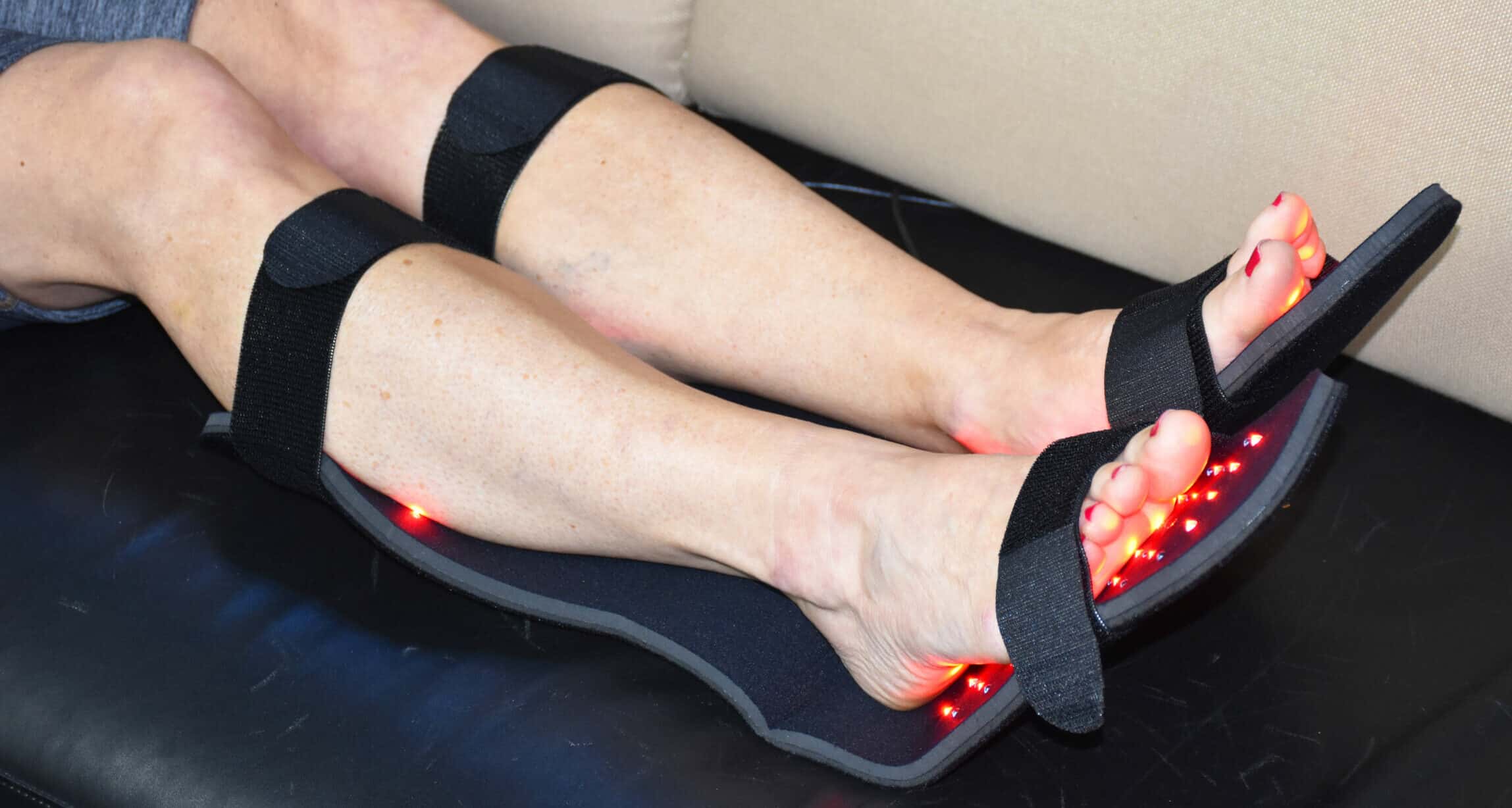 By adding low level light therapy to their treatment menus, doctors of Podiatric medicine can reap substantial benefits from both patients and revenue. Low level light therapy for podiatry practices are an emerging treatment that is becoming more and more popular.
Low Level Light Therapy for Podiatry Treatments
Light Therapy uses NIR (Near-Infrared Light) to treat pain and are considered Class II Medical Devices. NIR Therapy is backed by decades of science and can be depended upon for effective pain relief and circulation support for a wide range of lower extremity ailments necessitating podiatry treatments, proving itself to be painless, extremely safe, simple, easy to administer, and very effective.
LED Light Therapy relieves pain, increases circulation, relaxes muscles, relieves muscles spasms, and relieves aches/stiffness caused by arthritis. Low level light therapy is non-invasive, and has no known negative side effects which makes it a unique option for podiatry treatments.
Pain drastically decreases or disappears for up to several hours after the conclusion of a therapy session, making NIR Therapy an effective all-natural alternative to corticosteroid injection and non-steroidal anti-inflammatory drugs for lower extremity pain relief and management.  With regular treatment sessions, sub-acute and chronic painful lower extremity conditions may be able to be managed non-surgically.
NIR Therapy is gentle, relaxing, and comforting, alleviating pain, stiffness and soreness – just what is needed to soothe an aching foot and increase patient satisfaction.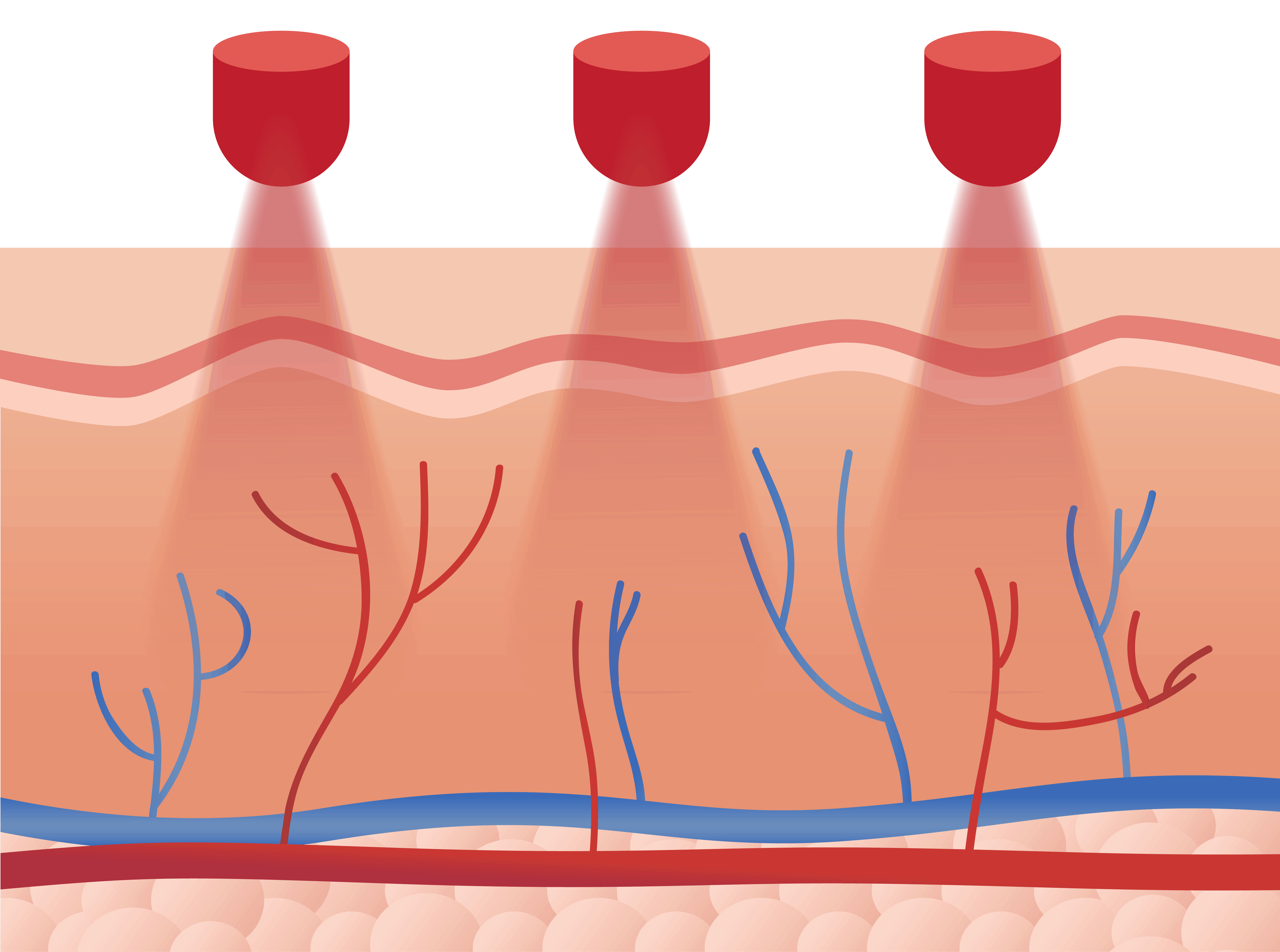 How Can LED Light Therapy Therapy Reduce Pain for your Patients?
During twenty minutes of a typical NIR Therapy session, as waves of light penetrate the body, a photochemical reaction referred to as "photobiomodulation" or "PBM" is induced in the cells.  Cascades of therapeutic chemical processes are released. "Radiation of tissue with light causes an increase in mitochondrial products such as ATP, NADH, protein, and RNA."[1]  ATP (Adenosine Triphosphate) provides energy to the cells and also fights oxidative stress. Nitric oxide from hemoglobin and endothelial cells is also released, relaxing smooth muscle cells found in the arteries, veins, and lymph vessels.  When these muscles relax, the vessels dilate and allow increased circulation, so that blood rich in oxygen and nutrients can flow more freely into the local area, reducing pain and supporting the body's natural healing processes.
Shop Red Light Therapy Devices
Low Level Light Therapy is Easy to Administer From Your Podiatry Practice
Another advantage of Low level light therapy for podiatry practices is that it is simple and easy to administer. Pads are placed on the feet or legs, the system is turned on, and the pads then do their work. Therapy sessions usually last up to twenty minutes, and systems automatically shut off afterward. During this time, the patient can be left unattended, allowing you to treat other patients. LED Light Therapy can be offered as an add-on or as a stand-alone treatment modality, which may appeal to patients with acute pain or chronic lower extremity conditions. Pads can be kept clean and sanitary by placing the pads in plastic bags and changing the bags between patients.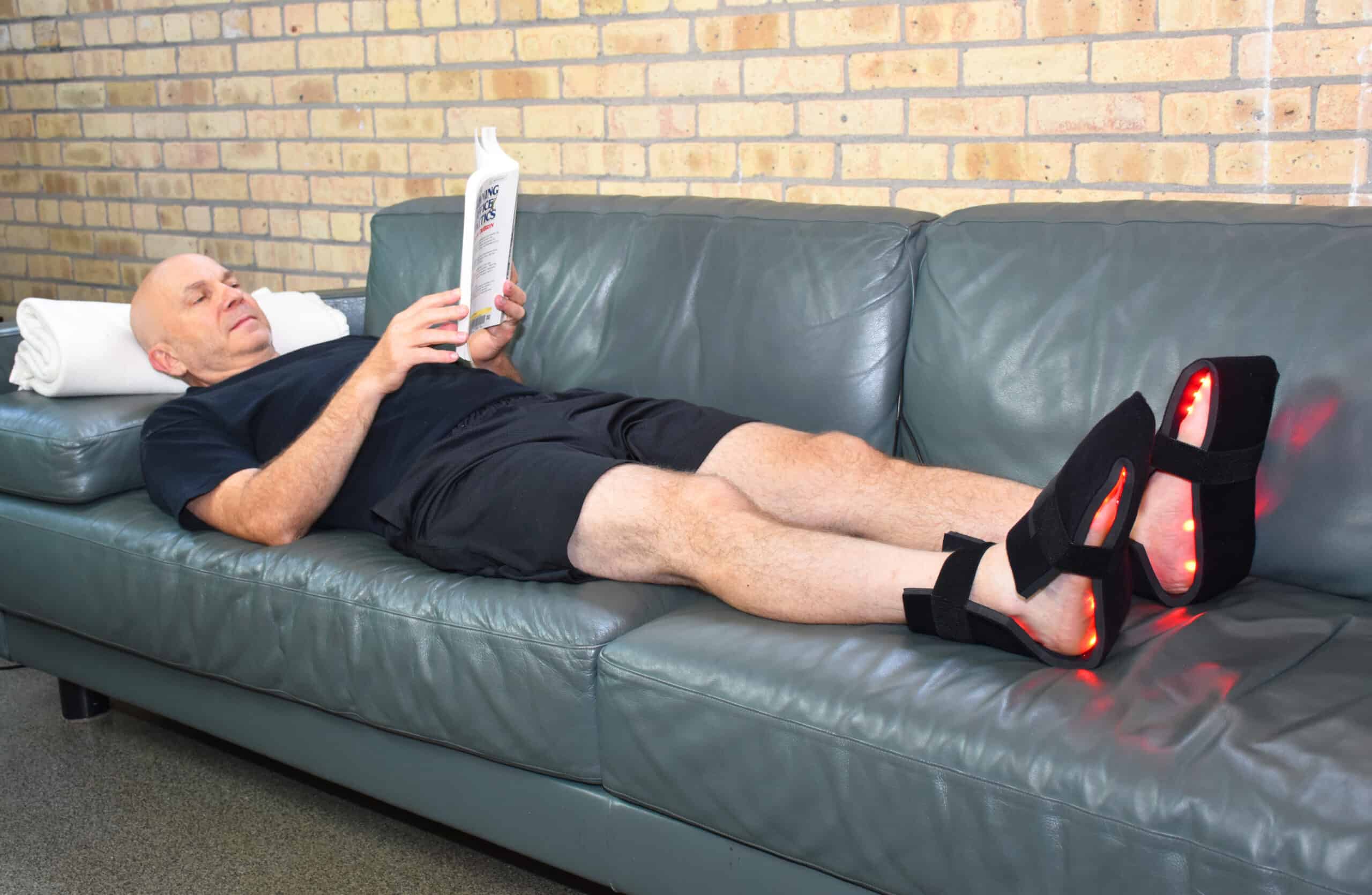 Selling Red Light Therapy Devices to Patients in your Podiatry Practice
Low level light therapy is beneficial when it comes to generating additional revenue for your podiatry practice if you decide to sell NIR Therapy systems to your patients. Manufacturers of NIR Therapy equipment like HealthLight do offer healthcare professionals the ability to purchase systems at wholesale and then resell them to patients for a profit.
Because NIR Therapy is so easy to administer, treatment sessions can be performed by the patient on their own, or with the assistance of family members. Patients may want to purchase their own systems for in-home use for an intensive low level light therapy podiatry treatment of chronic conditions that are helped most by daily therapy sessions. Patients may also desire their own in-home therapy systems to help speed up healing and ease pain after surgery.
Get Started with LED Light Therapy
Red light penetrates the deepest levels of the skin to stimulate healing; while near infrared light supports circulation in the skin and deeper structural tissues. HealthLight's Clinical Line offers two styles of LED Light Therapy boot systems with red and near infrared diodes, which are perfect for any podiatrist's office: the 122 Foot & Ankle Boot and the 131 Foot & Calf Boot. Both systems come in either a bilateral or unilateral configuration.
Podiatrists should not worry about "footing the bill" for a Healthlight Therapy system. Compared to most other types of professional medical-grade equipment, Healthlight Therapy systems are surprisingly affordable.  These same pads are available for sale to patients with a built in controller in the Express System.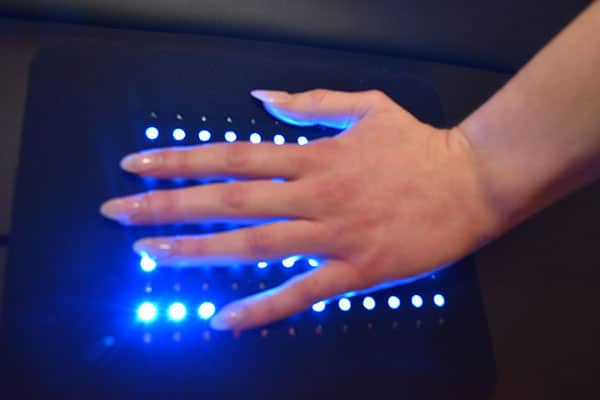 Blue Light for Skin Issues
Because podiatrists may be searching for treatments of dermatological conditions, podiatrists should consider having a low level light therapy pad that can emit blue light, which is especially beneficial for skin healing. Clinical studies have demonstrated that blue light exhibits intrinsic antimicrobial properties, which makes it especially useful to support the body's innate healing of many of the skin issues that a podiatrist encounters in patients.
HealthLight's 264 Large Blue pad features 264 LEDs (120 blue LEDs and 144 infrared LEDs). This is the ideal unit for large areas, measuring 8″ x 15," and should be able to accommodate any size foot.  Another option is HealthLight's 180 Long Tri-Color pad, which contains 180 LED's (100 infrared LEDs, 40 red LEDs, and 40 blue LEDs), and measures 5" x 16." Both pads are available in Clinical and Express At Home Versions
Footnote
In conclusion, since LED Light Therapy is still on the verge of gaining a strong "foothold" in the podiatry community, adding this simple yet highly effective treatment modality to your practice will be a unique addition to your podiatry practice that benefits your patients' health and well-being – as well as your practice's bottom line. Shop low level light therapy for your podiatry practice.
[1] Chung, Hoon, et al. The Nuts and Bolts of Low-level Laser (Light) Therapy. Ann Biomed Eng. 2012 February; 40(2): 516–533. doi:10.1007/s10439-011-0454-7, p. 5 of NIH Public Access version.
Start Your Pain Relief Journey Today
Contact us now and speak with a light therapy expert. They are here to help you find relief at home with soothing red light therapy.