LED Light Therapy Pad Comparison
HealthLight utilized an independent testing agency to perform advanced analysis on multiple products.
The conclusion: HealthLight therapy pads deliver more light energy to the treatment site.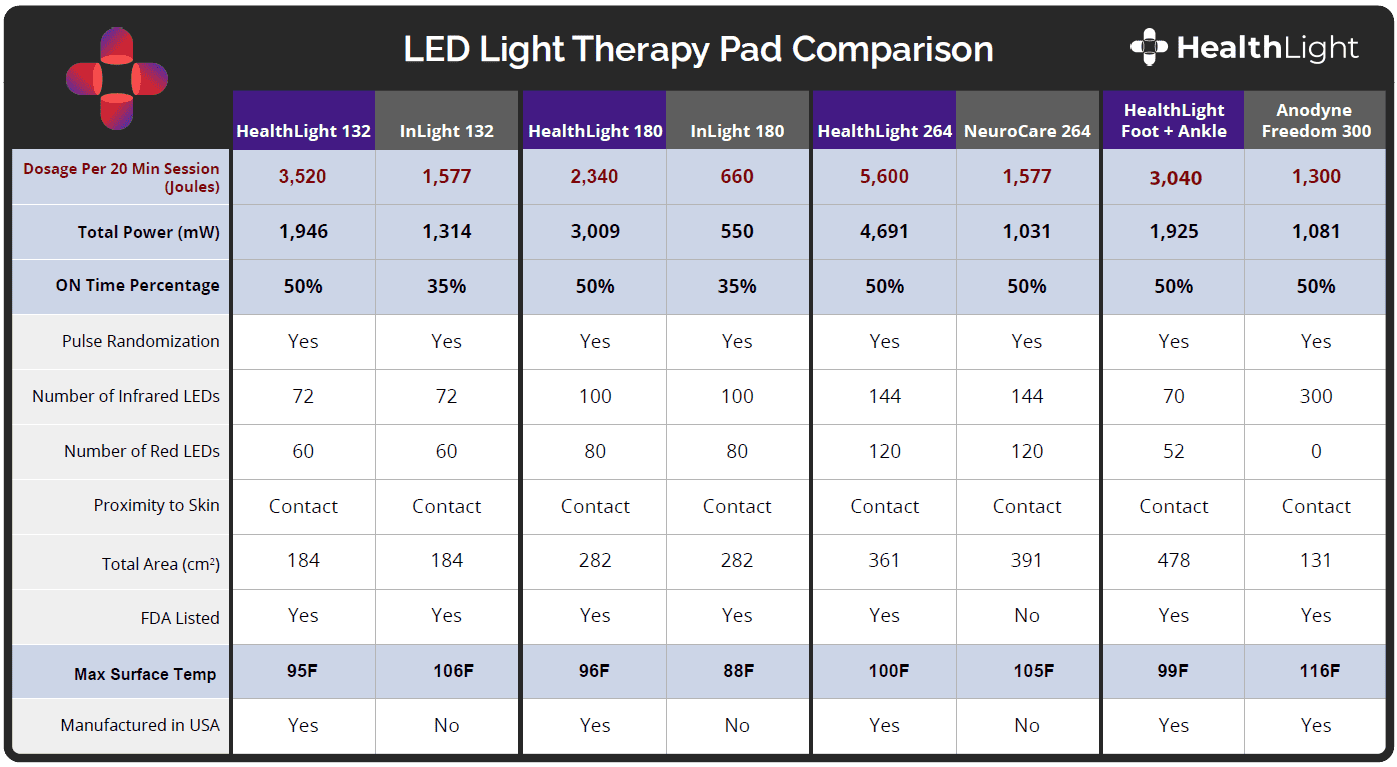 All HealthLight products are engineered to the highest standard and produced with the best materials. Our industry leading LEDs use a focused lens, resulting in less light wasted and more delivered to the body for quality treatment. Other products are less efficient and more prone to overheating, drastically reducing their efficacy.
Additional Comparisons
Other Light Therapy Products
| | | | | | | |
| --- | --- | --- | --- | --- | --- | --- |
| Dosage Per 20 Min Session (Joules) | 5,600 | 1,200 | 1,271 | 424 | 1,200 | 238 |
| Total Power (mW) | 4,691 | 1,000 | 828 | 353 | 1,000 | 146 |
| ON Time Percentage | 50% | 100% | 20-60% | 20-50% | 100% | 100% |
| Pulse Randomization | Yes | No | Yes | Yes | No | No |
| Number of Infrared LEDs | 144 | 0 | 77 | 25 | 0 | Single Laser Diode |
| Number of Red LEDs | 120 | 1 | 84 | 20 | 200 Laser Diodes | 12 |
| Proximity to Skin | Contact | Contact | No | Contact | Contact | Contact |
| Total Area (cm2) | 361 | Spot | 450 | 210 | 610 | 9 |
| FDA Listed | Yes | Yes | Yes | No | Yes | No |
| ISO Certified | Yes | No | No | No | Yes | No |
| Manufactured in USA | Yes | No | Yes | No | Yes | No |